The First Presbyterian Church in Newhall was an outgrowth of the Sunday School classes that were held during the late 1870s and 1880s in the lounge of the Southern Hotel, on the second floor of the Newhall School, and in parishioners' homes. The original wooden chapel opened for business on May 31, 1891 at Market Street and Newhall Avenue, on land donated by Margaret Jane (White) Newhall, widow of Henry Mayo Newhall, who had died three years earlier. The Newhall family donated about two-thirds of the construction costs.
In 1923, the wooden chapel was moved a couple of hundred feet toward Eighth Street and was remodeled by William J. Purrucher into the monumental structure seen in this picture postcard. Its minister was the Reverend Wolcott Evans, better known as "The Little Shepherd of the Hills," whose image is inset. Evans retired from his pulpit in 1930 to tend his avocado ranch in San Diego County. Identification by A.B. Perkins.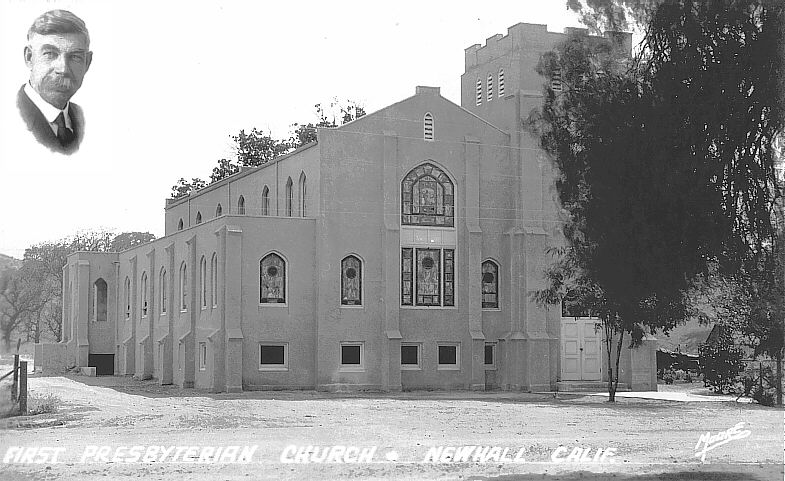 Fellowship Hall was built in the 1950's behind the monumental brick-and-mortar First Presbyterian Church in Newhall (visbile at left), which replaced the original wooden church in 1923.  Located on Newhall Ave. near Market Street, this version of the church was destroyed in the 1971 Sylmar earthquake.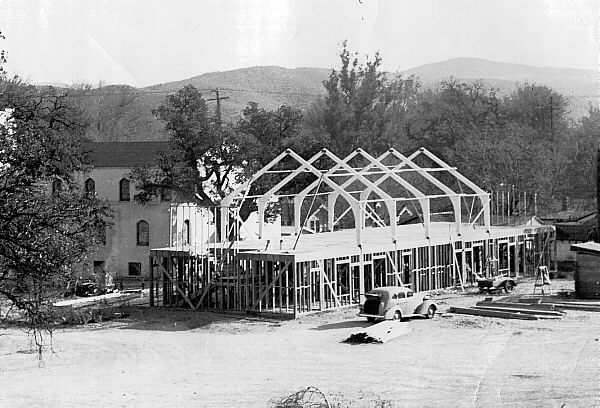 Marvin F. Greenelsh of Santa Maria, Calif., remembers: T"he (Fellowship) Hall was built in the very early 1950s. I was active in the church's high school youth group at the time. We started using the hall for youth and other activities."